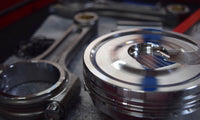 About Us
BRC Raceworks was formerly known as Cunningham Motorsports. With over 15 years of experience in Late Model EFI, we strive to provide a unique customer experience. Check out our selection and let us know how we can help.
Click Here To See Us in Action
Ive been tuning gen3/4 cars trucks for about 5 years now. Im a little late to then Gen 5 game but im trying to learn as much as possible as I take them in. I've done a handful so far with good results but felt I was missing the fine details....So I contacted Ryne Cunningham @brcraceworks to remote in/help me with a 19 1LE.

I can't say hoRead more about review stating 2019 SS 1LE Remote Tune

w good of an experience it was! From diag'ing some wideband issues to making this car run like an absolute animal; he did a phenomenal job. Also explaining specific issues that need addressed along the way as well (ported TBs in particular to idle timing) The car put down just over 500 on Ethanol and the owner is ecstatic.

I HIGHLY recommend him for your tuning/remote tuning needs. He's a wealth of knowledge, humble, and great to work with. Thanks again Ryne. :sign_horns:

Shawn L
Vehicle drives amazing and makes great power !
Oh and transmission shifts great !
Super easy to work with responds really quick

Jose
Ryne did an amazing job tuning my car and walking me through the process. Car was previously tuned by someone else and it feels like a different animal now.

Dan
Calibrations
No two vehicles are the same, therefore it is important to tune a vehicle using an individualized approach instead of a cookie-cutter one for all. Let our 15 years of experience get you dialed in and back in action. Our Calibration service includes all necessary equipment to dial in your car remotely. Have a laptop and internet connection? We got you covered.
Calibrate Me Now
Swag and Apparel
From stickers, clothing, hats, we got you. Rep BRC Raceworks with pride. Click to see our full lie of Swag.
Show me the Swag